Recently, CBD gummies have gained considerable popularity as a reliable solution for pain and inflammation relief. It's crucial to stay updated on the most effective options available in the market.
In this blog post, we will present a comprehensive guide to the top CBD gummies for pain. They are currently available on the market and supported by thorough research and positive customer reviews. We'll delve into the unique benefits offered by these products, conduct a comparison between industry-leading brands like Charlotte's Web and Joy Organics, provide insights on proper dosage and usage, and offer valuable tips for selecting high-quality products that suit your specific needs.
How CBD Works to Reduce Pain and Inflammation
CBD, short for cannabidiol, is a naturally occurring compound found in the cannabis plant. It interacts with the body's endocannabinoid system (ECS), which plays a crucial role in maintaining balance and regulating various functions such as mood, sleep, appetite, and immune system response.
CBD combats inflammation by inhibiting the production of pro-inflammatory molecules known as cytokines. This suppression helps reduce swelling at injury sites and provides relief from chronic pain conditions like arthritis or muscle strains.
Promising results from studies on animal models indicate that CBD may effectively alleviate neuropathic and inflammatory types of pain. For example, a study on rats with induced arthritis demonstrated that local administration of CBD significantly reduced joint swelling over time without any evident side effects during treatment.
Why CBD Gummies are a Popular Choice for Pain Relief
CBD gummies have rapidly gained popularity as a preferred choice for pain relief, primarily due to their ease of use and enjoyable taste. These bite-sized treats offer users a convenient and palatable way to consume cannabidiols without the need for vaping or ingesting oils.
The discreet nature of CBD gummies makes them ideal for on-the-go usage, making them perfect for individuals seeking pain alleviation during busy days. Many people find it convenient to keep a stash of CBD gummies in their bag or car for quick relief from inflammation, joint pain, or muscle soreness while out and about.
Moreover, high-quality CBD gummies typically contain less than 0.3% THC, ensuring that users can enjoy the numerous benefits associated with cannabinoids without experiencing any psychoactive effects typically linked to marijuana consumption.
Top 12 CBD Gummies for Pain and Inflammation in 2023
Below we'll be adding 12 best CBD gummies for pain and inflammation.
1. Exhale Wellness CBD Gummies
Exhale Wellness has established itself as a reputable provider of premium CBD products, and its CBD gummies excel in offering potent pain and inflammation relief. Crafted with the utmost care, these gummies are considered the best option for pain relief in 2023. Exhale Wellness sets itself apart by producing vegan-friendly options to accommodate various dietary preferences. Sourced from sustainable practices and premium hemp plants, the gummies undergo rigorous testing to maintain their purity, potency, and 100% natural profile, free from harmful additives or chemicals.
2. Cheef Botanicals CBD Gummies
Made from 100% natural ingredients, Cheef Botanicals CBD gummies present a healthier choice for pain and inflammation relief. Their commitment to avoiding artificial colors and flavors distinguishes them from other brands. These gummies are among the top choices for pain relief and anti-inflammatory properties, offering various options ranging from 300mg to 1200mg per bottle to cater to different dosage preferences.
3. BATCH CBD Gummies
BATCH CBD gummies are an effective choice for pain and inflammation relief, carefully crafted using premium hemp oil sourced from Colorado. What sets these gummies apart is their infusion with CBG and turmeric. CBG is another cannabinoid known for its anti-inflammatory properties, and turmeric is renowned for its natural anti-inflammatory effects. The combination makes BATCH CBD gummies highly effective in reducing pain and inflammation.
4. FOCL CBD Gummies
FOCL offers high-quality CBD gummies for pain relief in 2023. Packed with either full-spectrum or broad-spectrum CBD, each gummy contains 25mg of CBD, making them potent and effective for pain and inflammation management. FOCL ensures its CBD gummies consist of natural ingredients without harmful additives or chemicals.
5. Otterspace CBD Gummies
Recognized as one of the best CBD gummies for pain and inflammation relief in 2023, Otterspace CBD Gummies stand out for their exceptional taste, making them a popular choice among users. Each cube contains 25mg of CBD, providing effective relief. With high-quality ingredients and a reputation for delivering results, Otterspace remains a top-rated brand in the realm of pain and inflammation relief.
6 CBDfx Mixed Berry CBD Gummies
CBDfx Mixed Berry CBD Gummies offer a delectable mixed berry flavor and consist of all-natural ingredients. These gummies contain broad-spectrum CBD, providing most cannabinoids except THC. With a potent 25mg dose of CBD per gummy, they cater to advanced users. Vegan, GMO-free, and made in the USA, these gummies are free from artificial sweeteners or high fructose corn syrup. The low sugar content, only 0.5 grams per gummy, distinguishes them from other options.
7. Cornbread Hemp Full-Spectrum CBD Gummies
For those seeking a stronger CBD dose, Cornbread Hemp Full-Spectrum CBD Gummies provide a higher potency option. These gummies may contain up to 2mg of THC per gummy, delivering a full-spectrum experience. Available in various potencies, including 20mg, 25mg, and 50mg per gummy, Cornbread Hemp ensures their products use Kentucky-grown organic hemp, certified by the USDA. Derived from the plant's flower, the gummies boast higher cannabinoid and terpene content. The Peach flavor option and 300mg strength cater to less experienced CBD users.
8. cbdMD Broad Spectrum CBD Gummies
cbdMD's Broad Spectrum CBD Gummies stand out due to their high potency and multiple flavors. Each bottle offers a delightful variety, featuring Strawberry, Orange, Raspberry, and Tropical Fruit flavors to cater to diverse preferences. With 100mg of CBD per gummy, these gluten-free and vegan gummies deliver a potent dose. Notably, they use pectin instead of gelatin, reflecting cbdMD's commitment to high-quality CBD products.
9. Social CBD Original CBD Gummies
Social CBD Original CBD Gummies are plant-based delights, featuring THC-free broad-spectrum CBD. Free from animal by-products, artificial colors, and flavors, they are ideal for individuals with common allergens, such as peanuts, shellfish, and gluten. Customers can choose between 10-count and 60-count options, allowing for flexible usage and dosage preferences.
10. Sunday Scaries Extra Strength CBD Gummies
Sunday Scaries Extra Strength CBD Gummies are highly favored by those seeking potent stress relief. Each bottle contains 20 gummy bears, and each gummy boasts 25mg of broad-spectrum CBD. This extra-strength version offers a significant boost compared to their standard gummies. The proprietary broad-spectrum CBD oil blend includes minor cannabinoids like cannabigerol (CBG) and cannabinol (CBN). Beginners should be cautious of the higher potency when trying these gummies.
11. Medterra True Full Spectrum Original CBD Gummies
Medterra True Full Spectrum Original CBD Gummies offer excellent value for those seeking a full-spectrum option. Each citrus-flavored gummy contains 25mg of CBD and a generous 2mg of THC, with one gummy recommended per serving. The jar is available in 30 or 60 gummies, providing a cost-effective choice for a full-spectrum experience. Medterra, certified by the U.S. Hemp Authority, operates from California and extends discounts primarily to military members and students.
12. PlusCBD CBD Gummies, Extra Strength Formula
PlusCBD CBD Gummies, Extra Strength Formula, cater to beginners seeking a milder CBD potency. Each jar holds 30 or 60 gummies, with each gummy providing 10mg of CBD. Available in Cherry Mango and Citrus Punch flavors, these vegan gummies are free from artificial ingredients and suitable for individuals with allergies. PlusCBD's non-GMO and gluten-free gummies have received praise for their calming and anxiety-relieving effects. While PlusCBD doesn't have an assistance program, they offer a loyalty program and product bundles for potential savings.
Strongest CBD Gummies for Anti-Inflammatory
Looking for the most potent CBD gummies to combat inflammation? Look no further than Budpop CBD Gummies, known for their excellent anti-inflammatory properties.
Budpop CBD Gummies
Budpop CBD gummies are a popular and effective choice for relieving pain and inflammation. Formulated with a blend of CBD, CBG, and turmeric, these gummies promote recovery and provide relief from aches and pains.
The standout feature of Budpop's CBD gummies lies in their potency. Boasting an impressive 750mg of full-spectrum CBD per gummy, they rank among the strongest options available in 2023 for combating inflammation.
With widespread recognition as one of the best brands for pain alleviation and stress relief, Budpop CBD Gummies offer a powerful and reliable solution.
Best Broad Spectrum CBD Gummies
When it comes to broad-spectrum pain relief, Soul CBD Gummies are the top choice. They provide a comprehensive blend of cannabinoids and terpenes to effectively soothe inflammation and alleviate discomfort.
Carmen's Medicinals Broad Spectrum Gummies
Carmen's Medicinals Broad Spectrum Gummies stand out as one of the best options for pain and inflammation relief in 2023. Each gummy contains a blend of broad-spectrum hemp extract, organic MCT oil, tapioca syrup, organic cane sugar, natural flavors, natural colors, and coconut oil.
These gummies have earned their place on the list of top 10 CBD gummies of June 2023, and they are also ranked among the best CBD gummies of 2023. With Carmen's Medicinals, you can expect top-quality ingredients that effectively reduce pain and inflammation with minimal side effects.
Benefits of CBD Gummies for Pain and Inflammation
CBD gummies offer various advantages for pain and inflammation management, including stress and anxiety reduction, improved sleep quality, and potentially decreased reliance on painkillers and anti-inflammatory drugs.
1. Stress and Anxiety Reduction
CBD gummies have shown promise in reducing stress and anxiety. Regular consumption of CBD may lead to a decrease in symptoms associated with depression and anxiety disorders, including conditions like PTSD. For instance, users of Medterra CBD Isolate Gummies have reported experiencing increased calmness and improved sleep, which can be particularly helpful for those dealing with anxiety.
CBD interacts with the body's endocannabinoid system, helping regulate mood and potentially alleviating nervousness linked to various anxiety disorders. The fact that CBD offers natural stress relief without causing psychoactive effects makes it an appealing option for many individuals seeking anxiety relief.
2. Improved Sleep Quality
Consistent use of CBD gummies has been linked to improved sleep quality. CBD interacts with receptors in the nervous system, which can help regulate various bodily functions, including sleep patterns. For individuals experiencing poor sleep due to anxiety, chronic pain, or other health issues, CBD gummies may offer a promising solution.
Beyond promoting better sleep quality, CBD's potential to reduce stress levels and induce relaxation benefits those dealing with symptoms of depression or anxiety. Better sleep can contribute to overall wellness and improved daily functioning.
3. Reduced Dependence on Painkillers and Anti-inflammatory Drugs
CBD gummies are gaining popularity as an alternative treatment option for pain and inflammation. One significant benefit of using CBD gummies is their potential to reduce the reliance on painkillers and anti-inflammatory drugs, which can be addictive and cause adverse side effects.
By incorporating CBD gummies into pain management routines, individuals may experience relief from pain and inflammation without solely relying on traditional pharmaceuticals. Additionally, CBD's non-psychoactive nature ensures that users can experience pain relief without any mind-altering effects.
How to Choose the Right CBD Gummies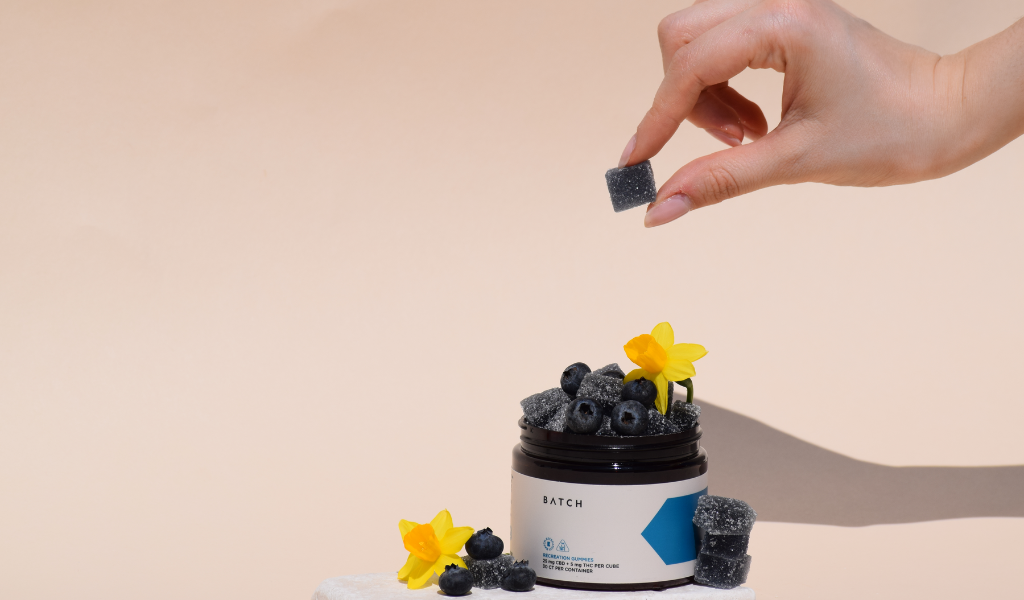 Choosing the right CBD gummies for pain and inflammation relief involves considering several important factors, such as ingredient quality, dosage strength, THC content, brand reputation, and customer reviews.
Quality of Ingredients
A crucial aspect is assessing the quality of ingredients used in the CBD gummies. Look for products with high-quality hemp oil as the primary ingredient, as it contains CBD with anti-inflammatory properties. Inferior ingredients may contain contaminants that could reduce the effectiveness of the gummies or lead to adverse reactions. Reputable brands like Exhale Wellness use organic hemp grown in Colorado and undergo lab testing to ensure potency and purity. Cheef Botanicals, on the other hand, offers vegan-friendly CBD gummies made from all-natural ingredients.
Strength and Dosage
Consider the strength and dosage of the CBD gummies. Opt for a product with the right CBD concentration to achieve effective relief without overdoing it. It's essential to start with a recommended dosage, such as one gummy containing 10 milligrams of CBD per serving, and gradually adjust as needed. However, individual needs vary based on weight, tolerance, and other factors. Before making any changes to your dosage, consult with a healthcare professional.
THC Content
Check the THC content in the CBD gummies. Most products contain less than 0.3% THC, but some may have higher amounts. For those seeking THC-free options, CBDfx Mixed Berry Gummies with CBD isolate is a suitable choice. The decision on THC content depends on personal preferences and tolerance levels.
Brand Reputation
Select a CBD gummy brand with a good reputation. Look for companies that have transparent manufacturing processes, use high-quality ingredients, and provide excellent customer service. Brands like Exhale Wellness, Cheef Botanicals, BATCH, and FOCL are known for their premium quality and customer satisfaction.
Customer Reviews
Customer reviews can provide valuable insights when choosing CBD gummies. Reading feedback from other users who have tried different brands and products can give you a better understanding of their effects, taste, dosage, and overall satisfaction. Positive reviews for Cheef Botanicals CBD gummies highlight their effectiveness in managing chronic pain and inflammation, while BATCH CBD Gummies receive praise for their natural ingredients and high quality. Otterspace CBD Gummies are also well-liked by customers seeking a tasty, non-psychoactive option for pain management.
By considering these factors, you can make an informed decision and find the right CBD gummies to effectively address your pain and inflammation needs.
Dosage and Usage of CBD Gummies for Pain and Inflammation
Understanding the recommended dosage and proper usage of CBD gummies is crucial when seeking pain and inflammation relief.
Recommended Dosage
To maximize the benefits of CBD gummies for pain and inflammation, it's essential to find the right dosage. The appropriate dose can vary based on individual factors, including body weight, metabolism, and the severity of pain or inflammation.
Considering the strength of each gummy is crucial when determining the dosage, as some products may have lower CBD content per gummy, while others may contain higher doses, up to 25mg or more.
It's also essential to keep track of your overall daily CBD intake, especially if you are using other CBD products like tinctures, to avoid exceeding recommended limits.
How to Take CBD Gummies
Taking CBD gummies is a straightforward and convenient process. Start by determining the appropriate dosage based on your specific needs, body weight, and tolerance level.
Begin with a low dosage and gradually increase it until you achieve the desired effects while monitoring any potential side effects.
To enhance absorption and reduce the risk of gastrointestinal discomfort, take CBD gummies with food. It's crucial to remember that CBD gummies may take an hour or more to produce their full effects, so patience is key.
If you are currently taking other medications or supplements, consult your healthcare provider before incorporating CBD gummies into your daily routine.
Possible Side Effects
Like any medication or supplement, CBD gummies may have potential side effects. While they are generally well-tolerated, some individuals may experience adverse reactions, including dry mouth, diarrhea, reduced appetite, drowsiness, and fatigue.
It's important to be aware of possible drug interactions, liver toxicity, and reproductive and developmental effects associated with CBD. Researchers are continuously studying the long-term risks of CBD at various dosages.
Before using any new supplement, including CBD, especially if you are taking other medications, it is essential to consult with your healthcare provider. Understanding potential risks and benefits can help ensure the safe and effective usage of CBD gummies for pain and inflammation relief.
If you are curious about the potential hazards of expired CBD gummies, you can explore another article on this subject.
Frequently Asked Questions (FAQs)
Let's address some common questions about CBD gummies for pain relief:
1. How do CBD gummies help with pain and inflammation?
CBD is known for its potential therapeutic properties, including anti-inflammatory and pain-relieving effects. When CBD is consumed in the form of gummies, the cannabidiol enters the bloodstream and interacts with receptors throughout the body. This interaction can naturally alleviate discomfort associated with conditions like arthritis or chronic pain.
2. Are CBD gummies legal in all states?
The legality of CBD gummies varies by state, but in general, hemp-derived CBD products containing less than 0.3% THC are legal at the federal level due to the 2018 Farm Bill. However, it's essential to check the specific laws in your state before purchasing any CBD products.
3. What should I look for when selecting a high-quality CBD gummy for pain relief?
When choosing a quality CBD gummy for pain relief, consider factors like potency and dosing instructions. Also, pay attention to sourcing information, such as where the hemp was grown. Look for current lab results on company websites or product packaging to ensure accurate THC quantities and verify safety standards were met during production processes. Third-party testing is a bonus as it indicates trustworthiness.
4. How long does it take for CBD gummies to work on pain or inflammation symptoms?
The onset of effects from CBD gummies for pain or inflammation symptoms can vary from 30 minutes to 2 hours. Factors like metabolism, dosage, and individual response can influence the timing. Be patient and experiment to find the right timing and dosage that suits your specific needs.
Wrapping Up
CBD gummies offer a convenient and enjoyable way to manage pain and inflammation, thanks to their potential anti-inflammatory and pain-relieving effects. When choosing CBD gummies, prioritize quality, potency, and adherence to legal regulations in your state. It's essential to be patient with the effects and consult with a healthcare professional if needed. With proper usage and dosage, CBD gummies can be an effective natural option for pain relief and inflammation management.
Disclaimer: The content provided here is solely for informational purposes and is not intended to serve as a substitute for professional medical advice, diagnosis, or treatment. The information presented should not be considered a comprehensive source and must not be utilized to make decisions related to health or well-being. For any medical condition, treatment options, or health-related concerns, it is essential to seek guidance from a qualified healthcare professional. This website or its content must never replace the advice provided by a medical professional. Always consult with a healthcare expert to address specific medical questions or issues.